Galerie mit 24 Bildern: Great American Ghost – Impericon "Never Say Die!"-Tour 2019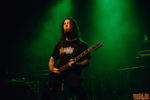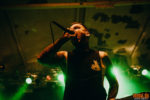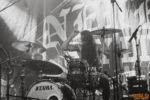 "No matter how much my dudes listen to MESHUGGAH and GOJIRA, I'm always going to sound like I love AMERICAN NIGHTMARE, because I do", sagt Ethan Harrison, wütender Fronter bei GREAT AMERICAN GHOST. Man glaubt ihm das sofort – einerseits weil seine eigene Truppe schon namentlich gewisse Parallelen zu den Bostoner Kollegen aufweist (AMERICAN NIGHTMARE hießen zwischendurch schließlich auch mal GIVE UP THE GHOST), und andererseits, weil man es einfach hört.
Erhebender Pop Punk ist das nicht gerade
Mit "Power Through Terror" legten GREAT AMERICAN GHOST pünktlich zum Valentinstag 2020 ihren dritten Wutbrocken vor. Beim Reinhören kann man mitunter auf die Idee kommen, dass das mit dem Deathcore ursprünglich mal genau so gemeint war, wie Harrison und Co. es hier zelebrieren.
Schon der Opener referenziert mit gekonntem Plektrum-Geratsche besagte GOJIRA und wechselt fließend zwischen dumpfen Breakdown-Akzenten und technisch angehauchten Death-Stakkatos. Harrison klingt dabei nicht nur stellenweise wie Sam Carter (ARCHITECTS), sondern teilt auch dessen allgemein positive Attitüde und den idealistischen Blick auf die menschliche Rasse als solche. "There is no escape – born into this prison of hate": Pop Punk ist das nicht gerade.
GREAT AMERICAN GHOST zeigen: Boston lebt und ist bitterböse
Dafür groovt "Power Through Terror" ungemein und beweist einmal mehr das sichere Händchen, das GREAT AMERICAN GHOST für brutales und dennoch eingängiges Songwriting besitzen. Das MORBID-ANGEL-hafte Hauptriff von "Altar Of Snakes" geht so vollkommen natürlich in einen düster-hymnischen Refrain über, in dem die deftigen Shouts mit genau dem richtigen Quäntchen Melodie versetzt werden, "Rivers Of Blood" bewerkstelligt Ähnliches aus einem Blastbeat-Gewitter heraus. Im äußerst geschmackvollen Rahmen gelingen GREAT AMERICAN GHOST so jede Menge kleiner Hits, die sich erstaunlich hartnäckig im wie automatisiert mitwippenden Schädel festsetzen.
Nachdem FIT FOR AN AUTOPSY schon im vergangenen Jahr für ein absolutes Genre-Highlight sorgten, steht mit GREAT AMERICAN GHOST ganz offensichtlich schon die nächste aufstrebende Truppe aus dem offenen Niemandsland zwischen Death Metal, Hardcore und Punk in den Startlöchern. "Power Through Terror" ist eine wirklich runde Sache geworden. Boston lebt und ist bitterböse.
[embedded content]
Lese den Original-Post unter : Source Beitrag