The Astrotec S80 is a second-generation True Wireless System, (TWS), featuring BT5.0, IPX5 weather resistance and 5-6 hours battery life. It is priced at $89.
Disclaimer: The Astrotec S80 sent to us is a sample in exchange for our honest opinion. We thank Astrotec for this opportunity.
To learn more about TWS reviews on Headfonics you can click here.
Note, this review follows our new scoring guidelines for 2020 which you can read up on here.
It has been a while since we covered Astrotec on Headfonics. They do a great lineup of earbuds that Mike has been devouring for years. It was no surprise to me then to find them launching TWS units last year with the S60, (Nathan has that one) and the higher model, the S80.
It is the S80 which we have here for review with a price point of $89. That places it a little above what I would call budget TWS such as the excellent MPOW M5, Jade Audio's freshman EW1, and the throwaway Redmi Airdots.
We have reviewed more expensive with the HELM TW5.0 and the TEVI boasting some impressive performances and features for their loftier price point. So does the Astrotec S80 fall in-between?
Kind of. It has some impressive features, missing a few obvious ones but importantly, has an audiophile flavor to its driver implementation.
Tech Inside
The S80 ticks quite a few basic TWS boxes including Bluetooth 5.0, cVc 8.0 noise suppression, IPX5 waterproofing, USB-C charging, and touch controls. So far so good. What it does not have is aptX decoding. Instead, the top decoding level is SBC and AAC.
For some, this may well be a deal-breaker given the superior dynamic range aptX capable chipsets can deliver. However, one thing to note is the quality of the driver. It does take two to tango and a good codec range is nothing without a good driver.
Beryllium Driver
Inside the S80, Astrotec has configured a 6mm beryllium driver dynamic. The diaphragm is actually a Dupont 4μsoft material coated with beryllium on a single side.
I much prefer beryllium drivers over titanium or traditional magnesium options. They tend to have the speed of titanium drivers but not quite as squeaky clean, generating a bit more richness and low-end wallop. That is, of course, if it is tuned correctly.
The driver is rated at 16Ω and 98dB SPL though this has less relevance in the world of wireless. The implementation of the internal amp combined with software-based volume control should mean the impedance curve remains true.
Mono Mode
Like a lot of TWS earbuds, the S80 left and right buds can be used independently of each other should you want to do that. The default side to use in Mono mode is the right side though you can use either.
'Mono" use will increase the battery life of the S80 but it will also mean uneven battery life in both channels if you do not keep an eye on each driver. Stereo use with a left-right BT connection is much preferred to keep battery life in both channels even and also it just sounds a whole lot better, period.
Note, the S80 uses Qualcomm TrueWireless Stereo and not Stereo Plus so it will create a master-slave between left and right with the master right side connecting to the source.
Design
The design is kind of jellybean strange but then again, strange in a saturated market stands out a lot more than bland. I have a fertile mind and I am seeing tadpoles in space helmets or stick drive knobs. I really should get out more often.
The materials are all-plastic with a matte finished body and a glossy faceplate. It does need to be glossy as the S80 is touch-sensitive to swiping on the top for its control system. Matte would be too grippy for smooth control functionality. Left and right are etched into the sides instead of the usual white decals on the underside.
The form factor is large with a very short nozzle and what you could best describe as a top-heavy aesthetic. The size is closer to the HELM TW5.0 than the TEVI or M5 but like the HELM it has an irregular design with a skewed white framed square faceplate on top. The small 'hole' on top is actually the LED light status which will blink different colors depending on pairing and battery status.
Comfort & Isolation
Stock Tips
Now, these drivers are big with a short nozzle and whilst not being terribly heavy they are virtually unmanageable with the stock tips. The stock angled tips really do nothing other than protecting the drivers from dust. Not that it needs it with an IPX5 rating so I would advise changing the angled tips, more so than any other TWS I have used to date.
Just to be fair to the S80, there are 3 sets of tips included. The angled stock tips on the S80 out of the box are like a sheath and simply do not seal with any size in my ear. They are too porous so the isolation levels are low and the S80s sound terrible as a result.
The second set tips are a regular set of black single bore silicone tips. These are better and also isolate a bit more. However, they are still not good enough for me in terms of seal and bass response. The final set are small single bore foam tips which I prefer out of the three supplied. They are comfy and fill out the sound a bit better than the other two.
Aftermarket Tips
I would advise a set of Symbio hybrid tips or Final E which are gripper have a superior seal.
The Final E tips edge it for me as they allow a great insertion depth which always helps deliver a fuller sound. The Symbio's seal is just as good, if not better, but they seal quite early in my canal due to their more rigid design. I tend to work a small Symbio tip because of that to allow the nozzle to go deeper.
The Symbio tips have more of a v-shaped effect on the sound than the Final E with excellent bass. However, the Final E sounds more open in the mids and treble.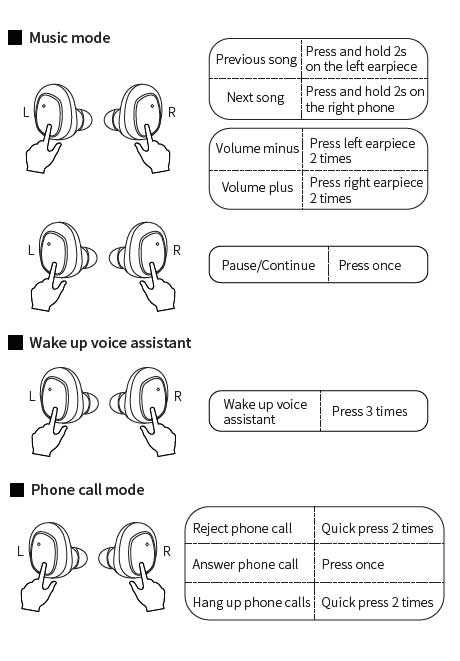 Controls
The S80 uses my preferred touch control system on each faceplate. Physical controls are safer from accidental touches but once in the ear touch controls are so much comfier to manage.
With the S80 touch controls, there is very little annoying physical movement of the drivers when using all the controls. That means they usually stay in the sweet spot without having to adjust after a touch.
My only critique is the level of sensitivity being quite high like the Jade Audio EW1. I had quite a few accidental activations when changing tips.
The control action delay is a little bit longer than I would like but nothing too bothersome and it is quite accurate in terms of responding correctly to multiple or single taps. The tap-based control system is similar to most other touch control TWS like the KZ T1 so it should be fairly easy to pick it up.
Modes
Astrotec divides the taps into different modes so you have music, call, and voice assistance tap functionality and how many taps will determine what happens. Long pressing each side will power down or power-up and double taps on either side control volume down/left and up/right in music mode. Single taps on either side will play or pause in music mode.
Quick pressing 2 times will end or reject a call using phone mode whereas a single tap will answer it. A triple tap brings up Siri, Google Voice or Bixby depending on what your provider offers on your smartphone or iOS device.
Charging Case
Coming off the back of the TEVI review the S80 sports some of that same lovely grey nylon finishing on its diminutive charging case. I actually like this case more than the TEVI one.
First, it is smaller than the TEVI case and much more pocketable. Second, it is more unique and stylish looking with a splash of chrome on the lid and that textile finish below. The S80's look pretty cool once housed in the cradle, much more distinctive visually.
I also love the fact the S80 cradle is using USB-C, much like the TEVI case. USB-C really needs to be mandatory at this price so brownie points to Astrotec for including it on the S80. Charging is 1.5 hours from 0% but note, there is no quick charge functionality on the cradle sadly. Doing so will damage the case.
Battery Life
The battery life on both drivers is a respectable 5-6 hours with a further 20-25 hours for the cradle. That places the S80 in the middle of the TWS pack thus far for batter life for the drivers and towards the lower end for the cradle. You will get about 4-5 cycles out of the case before you have to charge it.
That is better than the KZ T1, Jade Audio's EW1, and the Redmi Airdots. However, the TEVI, M5 and HELM's TW5.0 are 2 to 3 times longer for the cradle and about 1-2 hours better for individual driver life.
Bear in mind the S80 has no aptX capability and the majority of these battery measurements are done with SBC and volume at 50%. If you want to go aptX on the competing devices battery life will drop closer to the S80 level.
Packaging & Accessories
The S80 has some nice packaging and the cues are from Astrotec's longer history of earphone manufacturing. This is not a diminutive cube-like box with only the basics in terms of accessories. It is a proper box with plenty of user scenario cues printed all over and an organized layout of gear inside.
Inside you get something which I could hug Astrotec for after going through tons of these TWS systems of late, a carrying case. Why oh why is no one else doing this? It makes things so much easier than finding a cheap plastic bag. Audiophiles are logical people, aren't they?
Even nicer is that both charging cradle and carry case are in matching styles. Does the cradle fit in the zipper case? Yes, yes it does and there is enough room to slip in the rest of the accessories including the tips and charging cable. The full accessory line-up is as follows:
Charging cable (Type-C USB)
Two pairs of "angled" single-bore ear tips (one pre-installed)
Three pairs of single-bore silicone ear tips
A pair of foam ear tips
Click on Page 2 below for sound impressions & comparisons
Lese den Original-Post unter : Source Beitrag